DigiCert SSL Certificates
DigiCert is the world's premier provider of high-assurance SSL certificates — providing trusted SSL, private and managed PKI deployments, and device certificates for the emerging IoT market. From their founding 15 years ago to recently adding Symantec Website Security's experience and talent to their legacy of innovation, DigiCert has always been driven by finding a better way to lead the industry forward and build greater trust in identity and digital interactions.
SSL247® - Certified Platinum Elite Partner of DigiCert
We have enjoyed a strong relationship with Symantec since 2003, and were the first partners to join the DigiCert Platinum Elite Partner programme following the DigiCert acquisition of Symantec Website Security and related PKI solutions at the end of 2017.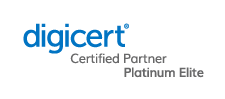 Our milestones with DigiCert and Symantec Website Security
What DigiCert says about our partnership
"DigiCert is delighted to welcome our long-time EMEA-based partner, SSL247®, to Platinum Elite status, a new tier in our Certified Partner Program reserved for those which achieve broad market penetration while embodying our ideals of providing a premier SSL/TLS customer experience.

SSL247® demonstrates a commitment to customer success in their efforts to tailor solutions to customer needs and provide strong technical support at all stages of the certificate lifecycle. We congratulate them on their many achievements and look forward to a bright future."

- Robert Hoblit, Chief Revenue Officer - DigiCert
Want to know more about DigiCert SSL?
Our consultants, specialised in SSL and web security, are available to discuss your business needs and the best web security solution for you. Get in touch with us:
+55 (0) 800 761 1941
sales@ssl247.com.br