Sobre SSL247® – Os Consultores de Segurança na Web
SSL247 ® – Os Consultores de Segurança na Web mantendo seu negócio online seguro e indo adiante
We are thrilled to announce that SSL247 has been acquired by our long-time partner and a global leader in automated digital identity management and web security solutions, Sectigo.
As a combined entity with Sectigo, SSL247 is well-positioned to build on 2 decades of experience selling and supporting SSL certificates, vulnerability assessments, digital IDs (email, code signing, IoT certificates), penetration tests, and audits, data protection, and other security solutions to customers. Sectigo and SSL247 share a similar vision of delivering innovative security solutions while providing a white-glove customer experience. Our mutual commitment to our customers and partners' success and providing world-class expertise remain top priorities for our organisation. This next chapter in our evolution combines SSL247's security consulting experience with Sectigo's position as the world's leading Certificate Authority (CA), enabling us to offer customers and partners more value, more innovative solutions, and an elevated level of support.
As the #1 value added SSL reseller in Europe, we are proud of SSL247's leadership in managed security services. By joining the global Sectigo organisation, our team will offer an even broader set of resources and products to our more than 10,000 satisfied clients, spanning micro businesses to large enterprises.
The SSL247 brand that you have grown to trust will continue to operate as a separate entity and be known as SSL247, A Sectigo Company.
You can read the official announcement here.
Com mais de 10 anos de experiência em segurança na web e operando em 12 mercados diferentes, nós na SSL247 ® sabemos algo sobre essa indústria.
Não basta apenas fornecer os produtos. A segurança online é algo tão importante para seu negócio e reputação que o suporte e serviço genuínos são essenciais.
Usando nosso conhecimento e ênfase no suporte, oferecemos a nossos clientes recomendações comprovadas. Cada negócio é diferente e, assim como um bom terno, sua segurança na web requer adaptações significativas para dar-lhe o ajuste perfeito.
Conosco, você tem seu próprio gerente de conta, disponível em uma linha direta e rápido para responder a e-mails, quer se trate de uma consulta sobre um pedido ou apenas a resolução de problemas. A mesma energia é investida em clientes novos e os já existentes, porque estamos no negócio de mantê-lo protegido, e não apenas fornecer os produtos que você usa para tal.
Já atingimos vários marcos importantes a fim de oferecer aos nossos clientes esta combinação vencedora dos melhores produtos e os melhores serviços, incluindo:
A visão de SSL247 ®
O cibercrime está em todos os lugares. A velocidade com que a internet cresce só é igualada pelas ameaças que vêm com ela. O roubo de dados, malware, cyber-squatting, phishing e falsificação de documentos eletrônicos não para.
É por essa razão que oferecemos uma defesa contra todos esses perigos. Manter a sua segurança garantida com SSL247® é simples – nós oferecemos todas as ferramentas em um único lugar, de fácil gestão. E ainda por cima, com suporte dedicado.
Nós chamamos isto de Online Business Continuity : Continuidade online de negócio.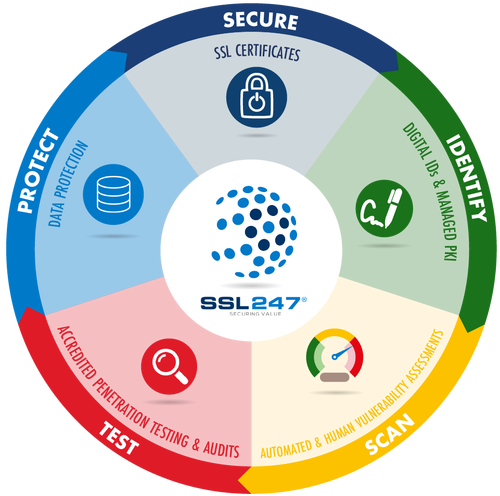 Gostaríamos de ouvir sua opinião
Entre em contato conosco, e teremos prazer em conversar sobre sua segurança na web e lhe oferecer a melhor consultoria disponível.
Mesmo se você vai encontrar-se na companhia de mais de 5.000 clientes satisfeitos, tratamos o seu negócio com a atenção dedicada que merece, até que você esteja completamente satisfeito. Ponha-nos em teste ainda hoje.
+55 (0) 800 761 1941

sales@ssl247.com.br

Suite Q, 2 East Poultry Avenue, London, EC1A 9PT
Se o Inglês não é sua primeira língua, clique numa das bandeiras no topo da página para ser redirecionado para o seu país de preferência. Em nossa equipe de gerentes de contas dedicados, eles falam várias línguas para que nada seja perdido na tradução.